Location: Berkeley, South Gloucestershire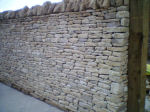 June - March 2006 - 2007
Details:
New build of dry stone walling(189 meter's) using new stone
This was our main contract in 2006
Futher Information:
Purpose of wall: The wall is a boundary for a wedding reception hall dividing up what was then the country park overflow carpark and the newly built hall
Stone: The stone which was chosen by the owner is a gray/white colour stone this stone is slightly lighter than the usual yellowed colour stone more commonly used in walling, unfortunately this stone appeard of a lower quality
Example of good walling stone : click me
Example of walling stone used: click me
Extras: A seat was built into part of the wall next to a large pond('Pond completed after walling') the seat was build for couples getting married to have wedding pictures taken on. small and large gateways were thought necessary which we added also the seat size was modified after it was decided a smaller seat would be better
Pricing Guide:
Labor: £24 - £32 a square meter of stonework per wall side
Stone: £80- £110 per tonne
Excessive gateway ends: £100 per meter rise (£200 per end)
Other materials: est £400 sand and cement sand and gravel used for wall ends and tops and seat.
Current Pictures from work undertaken
Comments: The end of this first section of walling is racked back as you may see from the photos, this section will eventually become joint with a second longer section of walling, without this racking back there would be a straight joint, you can see the other sections of walling being built in later photos further down this page.
Comments: Early pictures from the building of the second and third sections of dry stone walling the two sections are split up by a small gateway between them.

Comments: Here is some pictures of the second and third sections of walling later on in the build, you can see the third section complete in these last few photos.
Web site and all contents © Copyright All Stonework Ltd 2021, All rights reserved.